John Henry Lambert - Principal, Director - Trumpet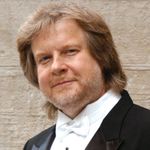 John Henry Lambert is a trumpet performance graduate of the Manhattan School of Music. Immediately following college, he won a position in the trumpet section of Oquesta Sinfonica Del Estado De Mexico, and lived near Mexico City for two seasons.  Upon returning to NYC, Mr. Lambert founded Gramercy Brass Orchestra of New York in 1982, and launched a career as trumpet performer, conductor and empresario. 
With Gramercy Brass, John Lambert has worked with leading names in both the concert music world, the world of entertainment and the major corporate sector, and has guest conducted and consulted with bands and orchestra all over the United States. 
Over the past 30 years Mr. Lambert has developed Polishing the Brass - programs in Music Education of Gramercy Brass Orchestra, which are sought after by students, educators and brass enthusiasts from around the globe.  
Mr. Lambert additionally serves as the Director of Bands and trumpet instructor for the United Nations International School in NYC.  John Lambert is a member of the Principal Brass Quintet of Gramercy Brass Orchestra, and in 2010 released a recording of trumpet solos performed at St Patrick's Cathedral in NYC with internationally renowned organ virtuoso, Stephen Tharp.
Max Morden - Principal - Trumpet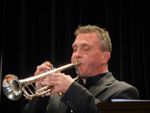 In addition to his concert appearances with an eclectic array of ensembles, Max Morden is proud of the outstanding reputation he has earned as a professional church musician. Called upon as the principal brass soloist for numerous churches, known for his incredible sense of the situation and having the adaptability in timbre, style, and occasion. Equally comfortable on trumpet, cornet, flugelhorn, and piccolo trumpet, his knowledge of musical genres and his experience playing in lots of situations from R&B bands and Broadway to symphony orchestras and brass quintets, has given him the versatility to play the right thing at the right time.
Along with his duties as principal cornet, arranger, composer, and assistant conductor with Gramercy Brass Orchestra of New York, Max also plays principal trumpet for the Oratorio Society of New Jersey, Ars Musica Chorale, Glen Ridge Oratorio Society, and holds the trumpet chair in Chico Mendoza's Latin Jazztet. He also frequents the horn section of the phenomenal cover band, Daddy Pop. Called one of the state's top trumpeters by New Jersey Classical Society, legendary jazz producer Creed Taylor says of Mr. Morden, "this is who I wish I sounded like when I played trumpet".  You can hear Max at myspace.com/maxmorden
Lee Ann Newland - Principal - French Horn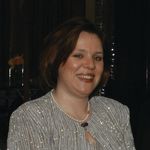 Lee Ann Newland graduated as a French Horn performance major from Manhattan School of Music, and received her Masters in Music from Rutgers University.  Following this, she won a place in the horn section of the Delaware Symphony Orchestra.  Ms Newland's career has also taken her to perform with the Metropolitan Opera Orchestra, American Ballet Theatre Orchestra, American Symphony Orchestra, and many notable chamber ensembles based in the NY area. Ms. Newland is the principal horn of Gramercy Brass Orchestra, has appeared with numerous Broadway musicals, and is a member of the famed Papermill Playhouse Orchestra in Millburn, NJ. 
 Lee Ann Newland is in demand as a private horn coach, and serves on the faculty of Teaneck Public Schools, Ridgewood Community School and Summer Music, Caldwell College, and is a co-music director of Gramercy Brass Band Camp.    
Mike Fahie - Principal - Trombone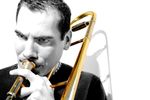 Mike Fahie is a Brooklyn-based jazz trombonist, composer and bandleader.  His current projects include a weekly gig with legendary trumpet player John McNeil at the Park Slope Tea Lounge, the Mike Fahie Jazz Orchestra, and the Mike Fahie Quintet, which is represented on Mike's debut album, Anima, released on the Brooklyn Jazz Underground label. 
Mike is also an in-demand sideman in New York City, playing with many highly recognized groups.  He is the lead trombonist of Darcy James Argue's Secret Society, a 2010 Grammy nominee.  He is the principal trombonist of the Gramercy Brass Orchestra of New York, and a member of the Gramercy Brass Quintet.  He is also a regular member of the Pedro Giraudo Jazz Orchestra, the Gregorio Uribe Big Band, Rob Mosher's Storytime and the Paul Carlon Nonet. 
Mike has shared the stage with too many musicians to list, but a few notables include the Vanguard Jazz Orchestra, Maria Schneider, Ingrid Jensen, Eddie Palmieri, Dave Liebman, Donny McCaslin, George Garzone, Charles Tolliver, Ken Peplowski, Jon Cowherd, Mike Rodriguez, Jon Gordon, and many others.
Mike works as a commercial musician as well, and has played several Broadway shows including Porgy and Bess, Priscilla Queen of the Desert, Ragtime, In The Heights, and Elf.  He has appeared on a number of recordings and movies, and performs with various rock & pop bands.
Mike is an also an educator, and has been on the faculty of the United Nations International School for over 10 years, and is currently on the faculty of the New York Jazz Academy. He has also worked across the US as a trombone and composition clinician.
Mike was a finalist for the prestigious Thelonious Monk International Trombone Competition, and was the first ever Canadian Fulbright Scholar in jazz.