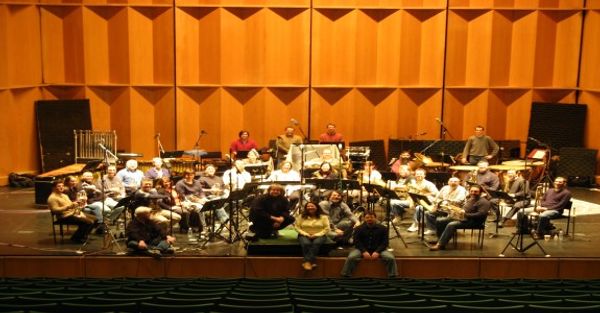 Gramercy Brass Orchestra of New York was founded in 1982 by trumpeter/cornetist John Henry Lambert, while still living in the Gramercy Park community of NYC. The group, employing the instruments of the traditional brass band, set out to operate as a professional brass concert organization, with membership drawn from the vast pool of highly skilled professional brass and percussion performers in the NY Metropolitan area.
Members of Gramercy Brass Orchestra of NY also appear with major ensembles such as the NY Philharmonic, Metropolitan Opera, American Ballet Theatre, to name a few, as well as many Broadway show orchestras and prestigious chamber ensembles. 
For over three decades, Gramercy Brass Orchestra of NY has carved a reputation as a pioneer in the North American Brass Band movement.  This effort was launched by way of winning First Place in the 1984 and 1985 newly established North American Brass Band Championships.
Gramercy Brass Orchestra, a non-profit arts organization (Gramercy Brass of NY, Inc.) has appeared at Lincoln Center, Jazz at Lincoln Center, Bard Music Festival at the Fisher Center along-side the American Symphony Orchestra, Baruch Performing Arts Center, Saint Patrick's Cathedral, Gettysburg Festival, The National Arts Club, World Trade Center, South Street Seaport, many years of performances in collaboration with the NYC Department of Park and Recreation, and more.
Gramercy Brass Orchestra has been featured in major corporate events of companies such as; British Airway, Avon Products, Nike, Bristol Myers Squibb, Volvo, Ogilvy & Mather, NBC News, Hermes of Paris, Advertising Educational Foundation, Jewish-American Foundation, National Parks Service, Ronald McDonald House, American Museum of Natural History, Arts & Business Council, Manhattan Chamber of Commerce, and has appeared at the legendary Waldorf Hotel, Plaza Hotel Ball Room, University Club, Manhattan Center, Javits Center, Gotham Hall, Pierre Hotel Ball Room, Jazz at Lincoln Center, and many other major event venues.
Always mindful of the extreme importance of music education, Gramercy Brass Orchestra offers its annual GRAMERCY BRASS BAND CAMP, where young brass and percussion students have the opportunity to be coached by and perform side-by-side with Gramercy Brass Orchestra's professional leading members. Gramercy Brass Orchestra has also appeared as "artist in residence" in many schools in NYC, Long Island and New Jersey.
Gramercy Brass Orchestra of NY records on the EntertainmentOne record label (formerly Koch Records) and has three commercial records available; AMERICAN ANTHEMS, CHRISTMAS TIME IS HERE, and BRUBECK: BOLD & BRASSY, all of which can be found at music outlets such as iTunes and Amazon.
To reach Gramercy Brass Orchestra of NY about concert bookings or other questions, please email: jlambert@gramercybrass.org
Messages can be left for us on our Voice Hot Line at 212 229 7607.     
Gramercy Brass Orchestra of NY is based in the "Gramercy-Flatiron" neighborhood of NYC, and is the principal ensemble of the Flatiron Festival of Music, supported by Time Warner Cable and other major area businesses. Named the official brass band of New York by Mayor Rudy Giuliani, Gramercy Brass "Orchestra" of New York is a unique ensemble of 28 leading professional brass and percussion instrumentalists in the New York performing arts community.  Founded in 1982 by John Henry Lambert, Gramercy Brass was twice the First Place winner of the North American Brass Band Competitions (1984 and 1985) and 1994 recipient of the Lincoln Center Community Arts Award, which led to its acclaimed Alice Tully Hall debut in May of 1995, with guest artists, the Marvin Stamm Jazz Quartet.
Not only is GBOofNY an awesome concert experience, playing everything from Shostakovich to Duke Ellington, they have always had a deep involvement with education. Arts education has always played a major role in the Gramercy Brass Orchestra's season.  These student programs called "Polishing the Brass" include, open rehearsals, master classes, school clinics, the Gramercy Brass Band Camp, the annual "Horn of the Future Award" – presented to outstanding young high school brass players, and many In-School support programs with special emphasis on students from underserved communities such as Elizabeth, Jersey City and Teaneck, NJ, and the newest programs with PS 204 in the Bronx and Washington Irving High School on Manhattan's east side.They are affiliated with numerous schools in NJ and NYC, including the LaGuardia School for the Performing Arts and one of the only schools in the nation to have a dedicated brass band program, St.Hilda's and St. Hugh's.
In performance they collaborate with a wide variety of instrumentalists and singers including broadway performers like Brian Stokes Mitchell and tenor Michael Amante. Jazz luminaries the likes of Dena DeRose and Dave Brubeck have also shared the stage with Gramercy Brass Orchestra of New York.
The concerts are always exciting and full of something for everyone.
The Latest Album is Here!